Growing up, Christmas was one of my favorite memories….especially the Christmas cookies! We made so many different kinds. I always loved the cut-outs the best because after cutting them out and baking them you also got to frost and decorate them! My kids share the same cookie favorite. So, because we are gluten free I needed to come up with a gluten free cut-out recipe. Well, I decided to go a step further and make it a grain free cut out cookies recipe! They turned out even better than I could have imagined! 
Easy Grain Free Cut Out Cookies
Ingredients: (makes about 5 dozen)
1 1/2 cups pastured butter, softened

2 cups

 coconut sugar (or you can use organic cane sugar)

4

 pastured 

eggs

1 teaspoon

vanilla 

5 cups

 Otto's Cassava Flour — where to find

2 teaspoons

 aluminum free baking powder — where to find

1 teaspoon

 sea 

salt

1-2 Tbsp water (depending on if your dough is dry)
Directions:
Preheat oven to 400°F
Using a hand mixer, cream together butter and sugar until smooth
Beat in eggs and vanilla
In a separate bowl, combine dry ingredients
Add dry ingredients to butter and sugar mixture
Mix the dough with your hands, if it is too dry then add some water
Roll out dough on floured surface 1/4 to 1/2 inch thick
Cut into shapes with cookie cutters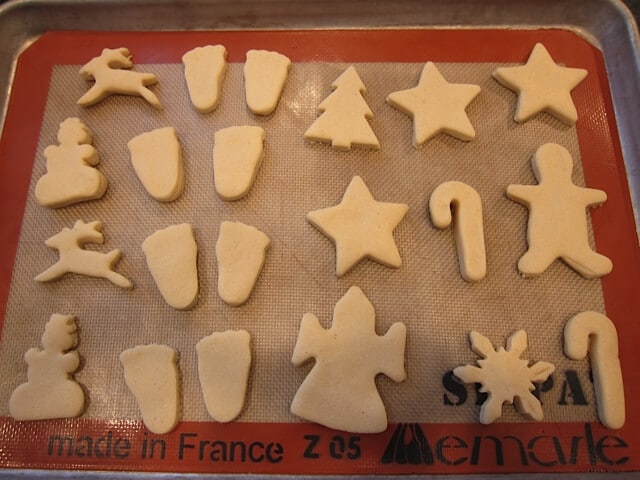 Bake 10 to 12 minutes, or until the cookies begin to brown on the edges
To make the icing: 
Ingredients: 
Organic powdered sugar
Grass-fed butter, melted
Milk (we use raw whole milk)
Vanilla
Directions:
Pour sugar into a bowl and add equal parts milk and butter until you reach the consistency that you like
Add vanilla to flavor preference
P.S. If you want to find the best gluten free items online (best prices around, believe me I have checked!) with free shipping, I highly recommend Thrive Market, they even have a special Gluten Free section. CLICK HERE to check them out!
My kiddos LOVE making these cookies every holiday season