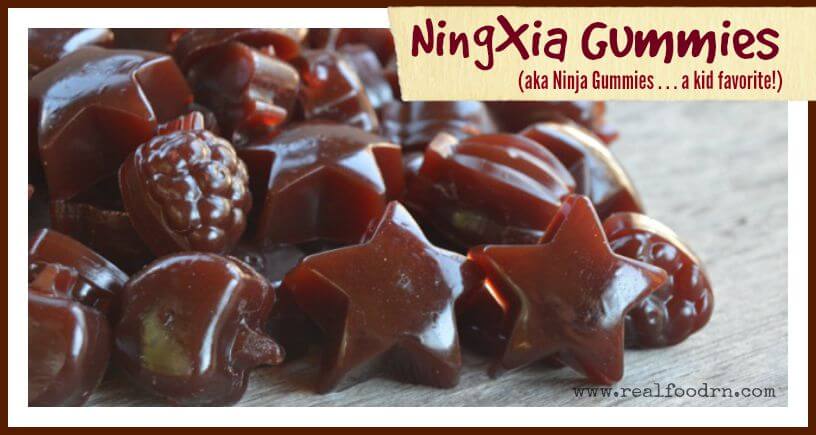 We call them Ninja Gummies, because they give my kids the energy and skills of a ninja! Well, maybe not, but they are super healthy and my kiddos LOVE them! They love them so much that they request that I make them when they have friends over so they can offer them to their guests. Love it! I make homemade gummies weekly now, and NingXia Red is our favorite new addition. This stuff packs a nutritional punch! So, NingXia Gummies for everyone! Make sure to watch the clip at the end of my post where Ellie tells you more about her favorite gummies!
NingXia Red combines the extraordinary wolfberry superfruit with pure Orange, Yuzu, Lemon, and Tangerine essential oils, along with blueberry, aronia, cherry, pomegranate, and plum juices to deliver a whole-body nutrient infusion. This powerful formula includes wolfberry, which is touted for its health-supporting benefits, while ongoing research continues to reveal exciting new properties on this ingredient. Enjoy NingXia Red daily to energize, fortify, and revitalize the body and support overall health and wellness, from head to toe.
Key Benefits:
• Sustain energy with the combination of select wolfberries and other superfruits. Contains powerful ingredients which are involved in many antioxidant processes and may help prevent against oxidative stress.
• Balanced ingredients make NingXia Red a whole-body nutrient infusion for health and wellness support
• Delivers citrus essential oils containing d-limonene, a powerful component in citrus oils.
• Powerful formula includes wolfberry which is touted for its health benefits
Love your family with healthy food. That's what I do. Young Living sells NingXia Red. If you want to buy some, you will have to sign up with an account. We order it every single month! To get yours, sign up and learn more HERE.
NingXia Gummies
Ingredients:
Directions:
Heat 1/2 cup of juice until bubbling
In a glass jar combine gelatin and heated juice, stir briskly to dissolve gelatin
In a medium bowl combine all of the ingredients and whisk until well combined. (Note: do not use honey in this recipe if you plan to share these gummies with anyone under the age of one year)
Here is one of our favorite juice blends (sorry, bad photo!)
Put molds into refrigerator until set, at least one hour
We store our NingXia Gummies in a jar in the fridge
NingXia Gummies last about one week
My daughter wanted to share her love of NingXia Gummies in a video, you can watch it below 🙂
How to Get Started with Essential Oils
CLICK HERE to share with Google+
None of the information on this website is intended to be taken as direct medical advice. Always consult with your medical practitioner before trying any of the new knowledge you have learned here. See my
Terms of Use
for more information.
Affiliate Disclosure
Website Disclaimer