When I was a kid it was always a treat to go out to eat! Every time I would order the same thing: chicken strips and fries. I can still smell the greasy deliciousness. Now if I were to order that, oh boy would my stomach ache! All that GMO oil and gluten-filled breading. Now my kids are getting older and wise to these kinds of treats. I am not one to deprive them of some good old fashioned kid favorites so I came up with a healthy recipe of my own that does not have gluten and is made with healthy fats. My kids love them, and so does my husband. Now, gluten free chicken strips have become part of our regular meal rotation!
Ingredients:
1 (14oz) package chicken breasts, sliced into thick strips
2 pastured eggs
1 Tbsp water
3/4 cup rice flour — where to find
1/2 tsp salt
1/4 tsp pepper
1 cup coconut oil for frying — here is the kind we use
Directions:
Heat a large skillet

over medium-high heat, add coconut oil to skillet
In a medium bowl, whisk the eggs and water together
In another medium bowl, combine flour, salt, and pepper and mix well
Dip chicken in eggs to coat
Roll in flour, making sure to cover the entire piece of chicken
Place in hot coconut oil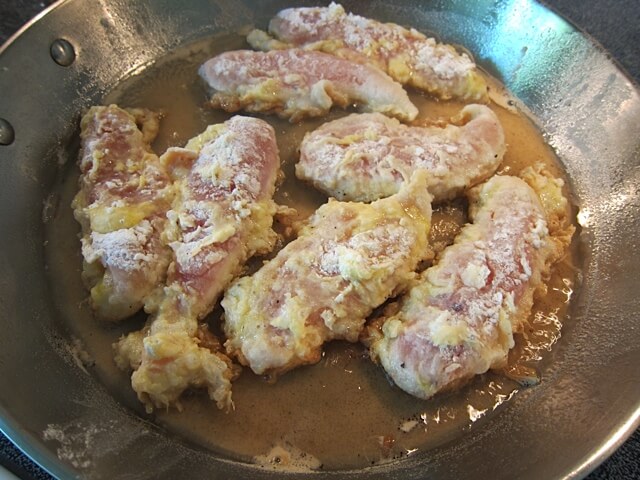 Work fast to get them all in the pan so they cook evenly at once
Flip when one side is golden brown
Cook each side about 5-7 minutes
Drain on a paper towel covered plate to soak up excess oil
P.S. If you want to find the best gluten free items online (best prices around, believe me I have checked!) with free shipping, I highly recommend Thrive Market, they even have a special Gluten Free section. CLICK HERE to check them out!