If you have ever tried a Cheez-it cracker, then you know. Oh yeah, you know. Only one is not an option….maybe only one box, but never only one cracker. I love the taste of them, the perfect salty snack. The only problem is that they are filled with garbage. About 30 minutes after eating them my symptoms set in — first a headache, then the stomach ache, and the next day is the skin eruption. Ah gluten, you nasty little devil you. But sometimes I still crave that salty, cheesy, crunchy snack. So, I decided to come up with my own version! Gluten free Cheez-it crackers. I bet you can't eat just one!
First, here is the ingredient list of the "real" Cheez-it crackers (remember, the box says on the front "100% real cheese" — hmmmm): Enriched Flour (Wheat Flour, Niacin, Reduced Iron, Thiamin Mononitrate [Vitamin B1], Riboflavin [Vitamin B2], Folic Acid), Soybean and Palm Oil with TBHQ for Freshness, Skim Milk Cheese (Skim Milk, Whey Protein, Cheese Cultures, Salt, Enzymes, Annatto Extract for Color), Salt, Contains Two Percent or Less of Paprika, Yeast, Paprika Oleoresin for Color, Soy Lecithin. So basically you are eating wheat flour (gluten), some GMO seed oil and junky CAFO cheese. Oh, and MSG. Ish, no thank you!
Here are the ingredients in mine….
Ingredients:
1 cup all purpose gluten free flour — we love this brand
1 cup shredded extra sharp cheddar, we use grass-fed raw cheddar
4 Tbsp cold grass fed butter, cut into pieces (if you cannot find grass fed locally, you can order this kind online)
2 Tbsp cold water
Sea salt for sprinkling on top
Directions:
Preheat oven to 350°F
In a food processor, combine flour, cheese and butter
Pulse until its a crumbly texture, but well combined
Add water and process until a dough forms
Divide dough into two balls and chill for 15 minutes in the fridge, or until firm (not longer than 30 minutes)
Roll one ball out on a Silpat until about 1/4″ thick (I use Silpat because then you do not need to flour a surface and make a big mess)
Pick up Silpat and rolled out dough and place on a baking sheet
Using a pizza cutter, cut dough into squares and trim off uneven edges (you can add extra dough to the next ball)
Sprinkle with salt, lightly
If you want to, poke little holes in the top with a toothpick to make them look even more like Cheez-it crackers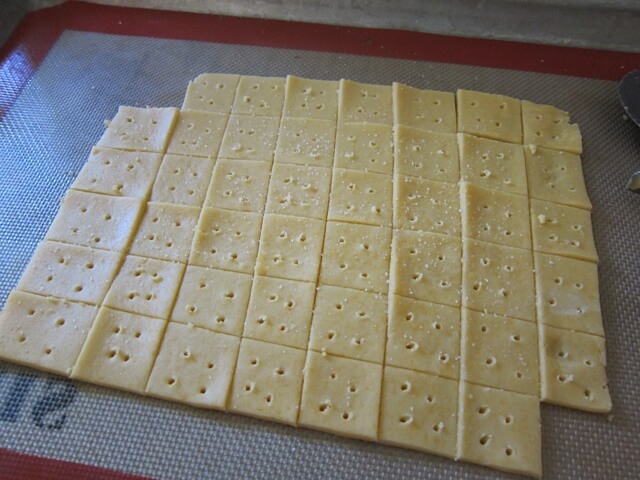 Bake for 10-15 minutes or until they are bubbly and browning on the edges slightly (my daughter knows they are done when the kitchen smells like macaroni and cheese)
Take out of oven and recut the crackers with a pizza cutter, just trace the lines you made before
Allow to cool completely before breaking them apart
Repeat with second dough ball
I store them in a plastic bag in the fridge and they last up to one week
This recipe makes about 80-100 small crackers
P.S. If you want to find the best gluten free items online (best prices around, believe me I have checked!) with free shipping, I highly recommend Thrive Market, they even have a special Gluten Free section. CLICK HERE to check them out!