I first tried lavender ice cream at the Young Living lavender farms in Mona, Utah. It was nothing short of amazing! Cold, refreshing, and calming. It was on my mind the whole weekend, and I could not get enough!
When I returned home from my trip, I made the mistake of telling the kids. I say mistake because they would not stop asking me about it until I finally whipped some up in my kitchen. It was an instant hit and didn't even last three days in our house! I hope you love the Homemade Vanilla Lavender Ice Cream recipe too!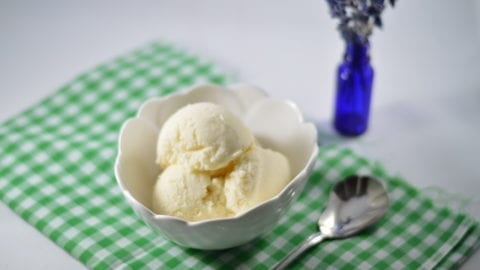 Easy Homemade Vanilla Lavender Ice Cream
Put a twist to classic vanilla ice cream with lavender. It's so smooth and delicious! Cold, refreshing, and calming.
Ingredients
2 cups organic whole milk (we use raw milk)
2 cups organic heavy cream (we use raw cream)
3/4 cup organic sugar — where to find
1 Tbsp vanilla
pinch sea salt
10-15 lavender vitality essential oil -- we only use the highest quality essential oils when using them in our food, here is the brand we trust
Optional: if you want chocolate, then add in 2 Tbsp cocoa powder. We also add in chocolate chips, fruit chunks, or homemade caramel swirl.
Instructions
1. Throw everything into a bowl and whisk together until well combined.
2. Pour into ice cream maker.
3. Process according to your ice cream makers directions.
4. When the ice cream is just about ready (looks like soft serve), add in your lavender essential oil. Add a little at a time and add to your taste preference.
5. We store our ice cream in containers because they freeze well and make serving really easy!
6. If you eat the ice cream right away, it will be more like soft-serve, but still delicious. Put it into the freezer for several hours to get more solid ice cream.
Notes
Make your own homemade macadamia nut caramel sauce here.
Recommended Products
As an Amazon Associate and member of other affiliate programs, I earn from qualifying purchases.
My kids LOVE this ice cream! Bonus: the lavender is very calming so this ice cream actually chills my kids out a bit! #momwin
They would barely look up for a photo!
How to Get Started with Essential Oils