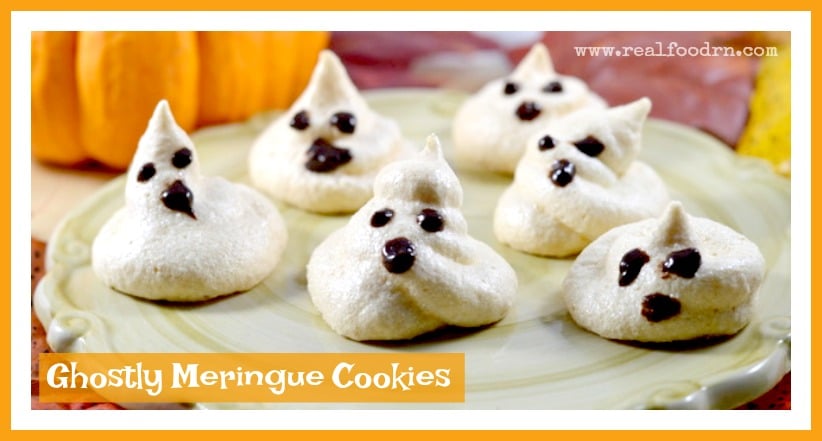 After the creation of our meringue apple pie, my kids have been obsessed with the thought of meringue anything.
This week, I was making up a batch of homemade hollandaise sauce and had a bunch of egg whites to use up. Well, what better to do with those egg whites than to make some delicious meringue cookies. Since it's October, we decided to make them into ghostly meringue cookies for fun!
Spooky Ghostly Meringue Cookies
When October rolls around and you're getting ready for Halloween, it's time to make some ghostly meringue cookies for fun.
Ingredients
5 pastured egg whites
1 1/2 cup Wholesome Sweeteners Organic Cane Sugar
1/4 tsp sea salt
Enjoy Life Semi-sweet Chocolate Mini Chips for painting the ghosts
Instructions
1. Preheat oven to 210°F.
2. Put the salt in with the whites and beat with a hand mixer until they start to foam up.
3. Slowly add the sugar while continuing to mix on high.
4. Beat egg whites until stiff peaks form.
5. Put mixture into a plastic bag and snip the bottom corner off, to make a piping bag.
6. Pipe meringue onto parchment-covered baking sheets.
7. Bake for 40 minutes or until firm.
8. Remove from oven and allow to cool completely.
9. Melt chocolate chips over low heat in a small pot, add cream to thin down if necessary.
10. Using a small paintbrush (never used for actual paint) or a toothpick to paint the faces on the meringues so they look like ghosts.
Recommended Products
As an Amazon Associate and member of other affiliate programs, I earn from qualifying purchases.