I grew up loving the rich buttery custard that my grandma used to make. I remember how great it smelled when you dug your spoon into that first bite. Rich and buttery, so smooth. Then sometimes we would pour fresh raw cream over the top to cool it a bit. Now THAT was amazing, to say the least!  
I want to carry on the memories of these old recipes in our kitchen for my own children, so I have been recreating some of the old recipes from my childhood! It started with my Grandma's German Potato Dumplings, and naturally progressed to her desserts. I inherited my Grandmas sweet tooth so we definitely have a lot of recipes to pull from in that category.
Pudding is something that my grandpa believed could cure all ailments. Every time I had a complaint, he would find some pudding, somehow. Here is my Homemade Pudding recipe, it's very reminiscent of this Homemade Vanilla Custard.
Yield:

Makes 6 cups
Vanilla Custard Cups
This vanilla custard is rich, buttery, and so smooth.
Ingredients
2 cups whole milk (I use raw milk fresh from the farm)
1 cup cream (I use raw cream too, it's amazing!)
3/4 cup organic cane sugar
2 whole pastured eggs
2 pastured egg yolks
1 Tbsp real vanilla
Instructions
1. Preheat oven to 325°F.
2. Take out a 9x13 glass baking dish and place 6 ramekins inside of it.
3. In a large saucepan, stir together the milk, cream, sugar, and vanilla.
4. Bring to a simmer, stirring frequently to prevent the milk from scalding.
5. In a large mixing bowl whisk the eggs (look at those beautiful orange pastured yolks!).
6. Pour the milk mixture into the eggs, whisking continuously to prevent the eggs from cooking.
7. Pour mixture into ramekins.
8. Boil some water in a tea kettle and pour into glass baking dish so it comes up the sides of the ramekins. Be careful that it does not pour into the custard.
9. Carefully put glass dish and ramekins into the oven and bake for an hour, they will be starting to set, but still jiggly.
10. Remove from oven and allow to cool on a cooling rack.
11. Once they are cooled, place into the fridge and allow them to chill overnight for the best creamy thick texture.
12. These custard cups last about 3 days in the fridge.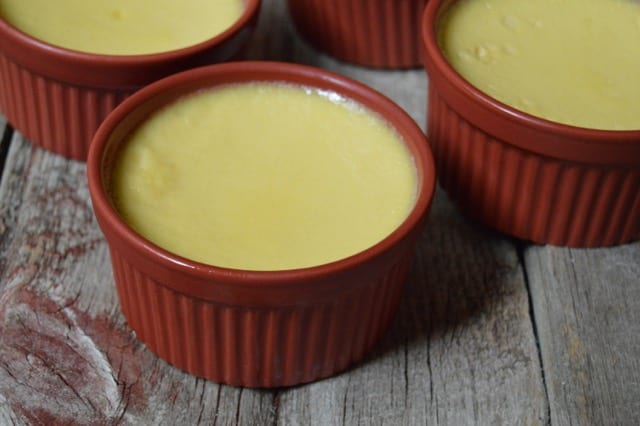 Recommended Products
As an Amazon Associate and member of other affiliate programs, I earn from qualifying purchases.