So I have this issue with throwing away food. I always want to find a way to use up my scraps, either in another recipe or in my compost bin. This summer my husband and kids decided to go on a watermelon binge and I had rinds coming out of my ears. I had heard of watermelon rind pickles, but never actually tasted one. Fermenting foods is one of my favorite "cooking" methods, so I decided to give these a go.
When looking around online I came across a spiced recipe, I changed it up a bit here. I also wanted to make a traditional pickle flavor, in case my kids didn't like the clove flavor. They are both delicious!
Fermented Watermelon Rind Pickles
Ingredients for basic brine:
1 medium organic watermelon
6 cups water
3 Tbsp sea salt — where to find
For the dill pickle rinds, add the following to the jars:
6 garlic cloves
2 Tbsp mustard seeds
1 large dill sprig or 1 tsp dried dill
For the sweet and spicy rinds, add the following to the jars:
1/2 cup honey
2 cinnamon sticks
2 tsp whole cloves
Directions:
Slice watermelon, removing the pink flesh to eat. I place a cutting board inside of a cookie sheet so the juice does not run all over
Trim green outer layer off of the rind and discard
Chop peeled rind into 1″ pieces, making them as evenly shaped as possible
Place the chopped rind into a clean half gallon glass jar — like these
I filled two half gallon glass jars with the rind from one medium water melon
Heat the water until boiling
Add in salt and stir until dissolved (note, my water looks "dirty" in this pic because I use real salt and it has minerals and other goodies in it that look a little different than the traditional white table salt).
Add in your flavorings of choice to the jar
Pour brine over watermelon rind in jars, until the neck of the jar (do not overfill). I use a funnel to do this
Place your airlock lid onto the jars, because the airlock system is seriously the easiest way to go! — where to find
Cover the jars with a dark towel and place in a moderate temperature area, the warmer it is the faster they ferment. Keep it covered so the fermentation is not affected by sunlight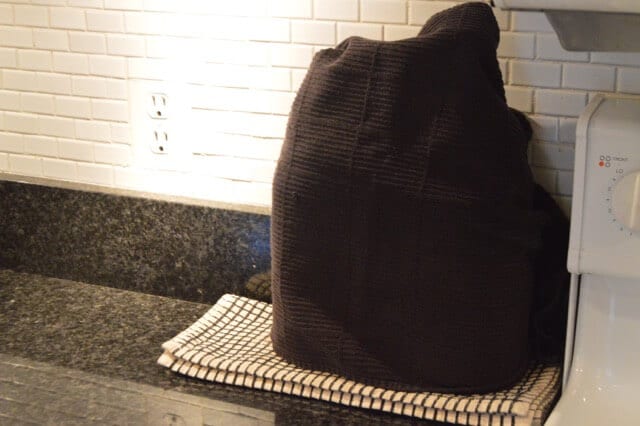 Allow to ferment 3-5 days, you can taste them after three to see if you like the flavor. The longer they ferment, the more sour they will taste
Place a plastic lid on the jar (metal will rust) and put the pickles in the fridge. They will last quite a while in the fridge, we have not had a batch go bad yet!
Makes two half gallon jars of watermelon pickles
CLICK HERE to share with Google+