Coming up with easy recipes that my kids love is one of my most favorite kitchen accomplishments! Not only are these super easy to make, but they are full of healthy protein and definitely a kiddie favorite in our house. You can even swap in breakfast sausages in place of the hot dog for a delicious breakfast muffin! I hope you and your family love these easy Grain-Free Corn Dog Muffins too!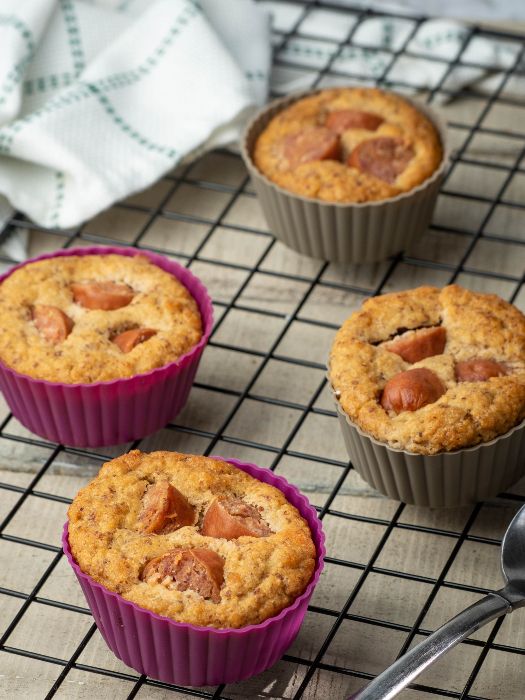 Easy Grain-Free Corndog Muffins
Ingredients:
5 uncured beef hot dogs, sliced into 5 pieces each
1/2 cup almond flour — where to find
1/2 cup coconut flour — where to find
4 Tbsp grass fed butter, melted
2 Tbsp honey
1/2 cup milk of your choice, we use raw cow's milk
3 pastured eggs
1/4 tsp salt
1/2 tsp baking soda
Directions:
Preheat oven to 350°F.
In a large bowl, combine everything but the hot dog pieces, and stir until combined.
Bake for 20-25 minutes, or until they begin to brown on the top.
Remove from oven and allow to cool a bit.
Serve with your favorite corn dog condiments.
Makes 12 corn dog muffins.
These corn dog muffins last in a covered container for about 5 days in the fridge.
CLICK HERE to share "Easy Grain-Free Corn Dog Muffins" on Google+