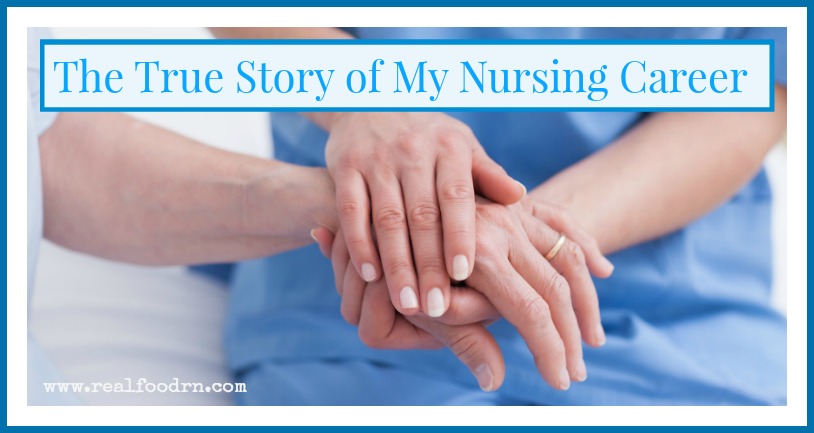 I want to share with you today a very personal story about the journey to my nursing career. It has been a journey filled with passion, tears, and hope. I really felt the need to share it here, to hopefully inspire others too.
As far back as I can remember, I have had an interest in health and healing. I remember when I was 4 years old and a neighbor girl was over playing. She has a burn on her arm and I took her into the bathroom, applied athletes foot powder and a bandage to it.
I thought I was doing the right thing. It made me happy to help.
Then I read about how the Native Americans had used plants as medicine, and that simply fascinated me! I would go into the woods in search of anything I could make into healing remedies. I was still pretty young, so I really had no clue what I as doing. I would bring my finds back to my fort and muddle them into different concoctions.
Alas, none of my friends would give them a try. But it made me happy to try.
Then, I naturally gravitated to something health-related when it came time to get my first job. It was the only health care job that someone 15 years old could do in my area. So I trained for and became a Nursing Assistant in a nursing home.
This opened my eyes to a whole new world.
If you have ever been in a nursing home, you know that they can be very depressing. Some days I would leave there exhausted and just down right sad. I remember staring at old black and white photos on the walls of the residents that I cared for, pictures of their almost forgotten past.
Then, I would look into their eyes and try to imagine all of the life they had lived and seen over the years. I remember thinking to myself many times, these people that I am putting to bed were someone's baby once. Someone loved them and lay them in a crib at night, and now here I am 80 years later laying them down in their small room with the black and white photos on the wall.
This memory still brings tears to my eyes.
It made me sad. I desperately wanted to help them and to just talk to them about their life. To learn from them. But so many of them were "gone", robbed of their ability to communicate. Most days I was working on the locked Alzheimer's wing.
Then one day I cared for a woman with ALS (Amyotrophic Lateral Sclerosis). She was bedridden and could only use her eyes and toes. She was still able to use a computer, using a modified mouse pad and her toes. We communicated via a letter board.
Her name was Sue. I will never forget her. I cry as I type this because she really had such an impact on my choice to pursue Nursing as my career. Her walls were covered in photos. Not all black and white, many of them color. She was not old, the disease had robbed her of many years of her life.
It was frustrating for her, not to be able to even scratch an itch. Some days were bad. Some days she was in an awful mood and many of my co-workers refused to work with her. So I would volunteer to be her aide that day. It did not bother me when she was in a bad mood. Sometimes we would just sit in silence in her room.
She had three kids. They all lived in different states. She also had grandchildren that she had never even met because her daughter did not have enough money to travel to see Sue.
Her son looked like Elvis and it always made her eyes smile when I would tell her that. So I said it a lot.
It made her happy, and that made me happy.
I came in on my days off and brought her flowers from my Mom's gardens, to brighten up her room. One day I brought in some homemade sauerkraut for her to taste. We had "talked" about foods she loved as a kid and that was one of them.
She had been on a tube feeding diet for years now. So on this day I wrapped the sauerkraut in some gauze and put it in her mouth so she could taste the sour juice from the kraut. I remember, she squeezed her eyes shut from the sour and then cried. She was so happy to taste it again.
I cried too.
I was there the first day she met her grandchildren, which was also the last. Her health was rapidly declining and her daughter was able to save up enough money to visit her Mom one more time. We all cried a lot that day. It will forever be in my memory and makes me cry every time I think about it.
So began my nursing career
Soon I was facing my college career. I told Sue that I was going to pursue Nursing and her eyes beamed! She had been a Nurse before she got sick. She had cared for so many sick people, and now she was on the other side of the fence. She was suffering.
Maybe I could make a difference, I thought.
College began and time passed quickly in the chaos. My college was close to home so I decided to surprise Sue with a visit, to tell her all about what I was learning.
When I arrived, her room was empty. My heart sank.
I drove back to my dorm in silence and got on my computer. This began my real research into the cause of disease. The internet was still pretty new, so I went between the library books and what I could find in a search on AOL. I started researching ALS and it took me down the rabbit hole.
Reading about how our food affects our health, and how we could use things like plant extracts and essential oils to elevate our wellness and prevent disease simply fascinated me! I would (and still do!) get so excited.
I wanted to run out of the library screaming all of the information that I was reading about to the masses!!
I would talk about it with my professors and classmates, but they did not seem to have the same interest as me. Most of the focus was on our modern medical model. Like it was the end-all be-all for everything health related. Follow the "Standard of Care"
So, I quietly researched and read. I opted for every "alternative" medicine class I could take, which were few and far between. I did projects that talked about the efficacy of modern medicine versus the tried and true remedies of the past. Those projects were often met with resistance from my peers.
Oh well, those projects made me happy.
Graduation day arrived and I honestly had no clue what area of nursing I wanted to work in. No clue. I took the first job that I found and started my Nursing career in a small (and I mean small!) hospital, not far from where I grew up. I dutifully cared for my patients. Administering antibiotics, helping deliver babies, assisting in surgery. It was exciting to be using my new skills!
But something was missing.
I changed from my small town hospital and made the move to an oncology ward all the way across the country in California! There I administered chemotherapy and cared for the very sick. I watched many people die horrible deaths. It was a very dark time in my career.
The air always felt thick to me in that ward, like even the air was sick.
Lifelong oncology nurses are special people indeed, because every day pulls at your heart strings.
I felt the same nagging desire to find SOMETHING ELSE, some other solution. Chemo was making everyone so sick.
Wasn't there an alternative.
Why were they getting cancer?
Why were we feeding them garbage when they were so sick?
Could this all have been prevented?
These were questions that my colleagues didn't like me to ask. So again, I retreated to my books and any science I could find online.
Homesickness got the best of me and I returned home. Still undecided about my actual favorite area of nursing, I took a job in the ICU Float Pool. This way I could work everywhere.
Surely I would find my niche this way!
I floated to every floor in a very large hospital. Somedays I had on my medical surgical hat, other days I was in the Emergency Room. Somedays I went to 4 different places, starting my day in the ICU and ending it on a surgical floor. It made my head spin a lot of the time!
Still, there was something missing.
Everyone was so sick. Why were we feeding them this horrible food, and always pumping them full of medications? So many medications!
Was symptomatic management all that we could do?
Now, don't get me wrong, there is DEFINITELY a place for our modern medical model! I work with brilliant and caring people. They pursued this career because they want to help people! If someone severs a limb, head right to the ER. The doctors there will help you, with the help of an amazing surgical team no doubt. If you have symptoms of a stroke or a heart attack, head immediately to the hospital. The cardiologists and neurologists will give you life-saving help!
But what if you just have a nagging rash, or vague symptoms that persist? You doctor keeps giving you medications, but no real answers. What about that? THAT is what nags at me! The mystery of the cause of the problem!
Why do we give so much energy to symptomatic management, and so little to finding the root cause?
Finding the root cause is how the medicine men of the past did it. Why are we so removed from that today? That would pass through my mind numerous times every shift that I worked.
I finally decided that I was not doing the work that was true to my heart, so I went back to school and pursued Holistic Nutrition at The Institute of Integrative Nutrition. I learned about all of the different diet theories, how to heal with food, and how to navigate the best path to real wellness. It filled my cup all the way to the top! THIS is what was missing!
This time I did talk about it, I told anyone and everyone who would listen. I mean everyone! I started seeing clients and teaching them how to eat a healthy diet, and their health improved. I would just beam when they told me that! God's work. Truly!
My small local audience was not enough, so I decided to put some of my healthy recipes online. I would work on my blog while on break at work. I would (and still do) get up at 4:30 in the morning just so I could work on the blog before the family got up. I would (and still do) go to the library for an entire day and barely even leave my computer. Labor of love. Absolute love.
Finally, more than just my Mom was reading my recipes and I started to interact with people from all over the world! What an amazing time we live in! Hearing stories from people in countries that I had never even been to was simply amazing, and it inspired me to work harder! To reach more people around the globe!
As my income grew, I was able to scale my hours down to casual at the hospital. Now I could really work on my passion project full time! Plus, I no longer worked 16-hour shifts, being away from my kiddos! Being home with my kids every day has truly given me fuel to my mission and purpose. I wish everyone could do this! I want to help anyone who DOES want to do this! Seriously, if you want this then email me: kate@realfoodrn.com and we can brainstorm!
As I write this my blog is still very young, only 3 years old. I am learning and growing every single day.
I will not give up!
My mission has become to help people get the toxins out of their lives and to learn to find the path to wellness.
I want to help YOU. I want to help everyone. If you are sick, please don't give up. There is help out there. Have hope and know that changing to a Real Food diet, while working on eliminating any unnecessary toxins in your life can dramatically improve your health.
To all the frustrated Nurses and medical professionals out there who went into healthcare to truly help people, don't give up. You CAN help people. There are so many ways you can help people! I would love to help you do it!
Thank you for reading this post all the way to the bottom. I know it was a long one, and I have honestly been writing it for a few years now. I was afraid to put it out there, like I had always been in Nursing school. I hope my story resonates with others and brings light to a situation that has been getting darker and darker over the years. We can change this!
With great love and appreciation for all of you! Thanks for reading!
xoxo,
~ Kate
Here is a pic that I took of my Danskos that have seen so so so many miles, and would have some pretty amazing stories to tell! 
I even did a short video telling my story, so I could share it with my Facebook followers in person 
I shared a longer version of my career story in a Facebook professionals group, tune in below
I would love to hear your stories in the comments below! Do you have a story similar to mine? Did you change your ways and are now enjoying wonderful health again? Please share! It will inspire others too. 
CLICK HERE to share "The True Story of My Nursing Career" on Google+