A neighbor of mine brought this salad to a pot-luck party and it was a huge hit! Of course I needed the recipe and she told me it was a variation of "Whole Foods Detox Salad", but she had made some modifications. I immediately made a batch and modified it even further. Here is what I came up with….
Detox Salad
Ingredients:
1 head organic cauliflower
1 head organic broccoli
5 large organic carrots
1/2 cup organic currants (I have also used raisins and unsulfered apricots)
1 cup soaked organic sunflower seeds (soak in filtered water with 1 tsp sea salt for 7 hours, then drain. This removes the anti-nutrients) or you can buy pre-sprouted sunflower seeds
4 tsp kelp granules (where to find)
1 cup organic parsley
1 tbsp himalayan sea salt (where to find)
3-4 whole organic lemons
Directions: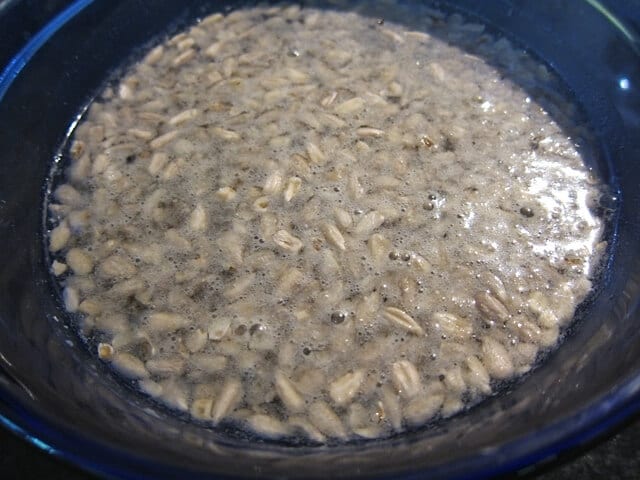 Chop broccoli and cauliflower into smaller pieces
Pulse everything but the lemons in your food processor until its ground up to the consistency pictured below
Slice the lemons in half and squeeze over salad. Mix. Enjoy a delicious detox salad!
Let me tell you a bit about why this detox salad is detoxifying: 
Cruciferous vegetables (broccoli & cauliflower): one of the phytochemicals found in cruciferous vegetables (sulforaphane) can stimulate enzymes in the body that detoxify carcinogens. This prevents the carcinogens from causing damage to the tissues in our body. The sulfa components also boost liver detoxification pathways.
Carrots: Raw carrots are one the best foods to eat when doing a cleanse or detox program because they bind to toxins and waste material and remove them from the colon. Carrots have a lot of fiber which makes your stools larger. Larger stools expose less toxins to colon walls and press against colon walls to promote peristalsis. This means that carrots keep you regular. Regularity = toxins out!
Currants: have been the object of phytonutrient research primarily for their unique phenol content, which helps prevent oxygen-based damage to cells in the body. Thus, they reduce oxidative.
Sunflower Seeds: They are high in selenium which is an important regulator of the heavy metal mercury. Selenium binds to mercury and removes it from the body. They are also high in Vitamin E, which is a potent antioxidant. Vitamin E protects against oxidative damage. Sunflower seeds also aid the liver's ability to detoxify.
Kelp: Kelp promoted detoxification in the body. It also helps regulate your thyroid due to it's iodine content.
Lemons: Lemons alkalize the body and they jump start digestion.
 I pack it in Mason Jars and take it to work for lunch. So easy and portable!!!
Watch the video below for more info
CLICK HERE to Pin this post