Chicken is a favorite meal in our home, but when it comes to white meat, I always feel it needs some richness added in. This butter sauce adds the right amount of richness, along with some amazing flavor! Kids love it too!
There are unbelievably beautiful flavors in the sauce served with this simple poached chicken. The process is a little "cheffy," but you only need to try it once to taste the benefits when putting in just a little extra love and effort.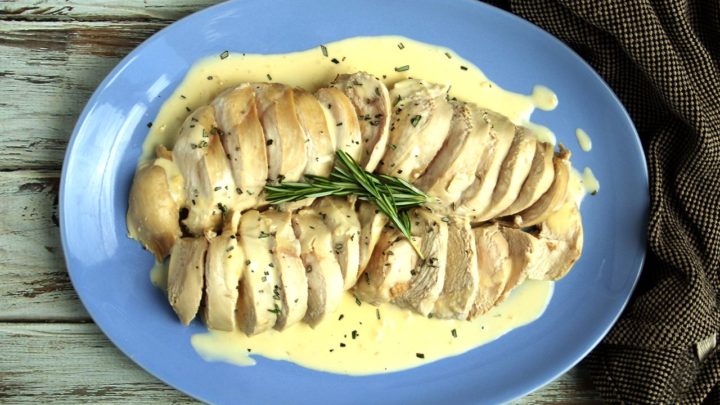 Yield:

Serves 4
Chicken with Rosemary Butter Sauce
A delicious gluten-free and low carb meal that is very versatile. You can make during the week for a nourishing dinner, or spruce up for a fancy gathering or special occasion.
Ingredients
To poach the chicken:
4 large chicken breasts, skinless and deboned
7 oz dry white wine
7 oz water
4 rosemary sprigs
1 TB whole black peppercorns
3 garlic cloves, peeled and smashed
For the sauce:
Reserved, strained sauce (see Instructions)
5.3 oz heavy cream
0.7 oz unsalted butter, diced small
Freshly ground black pepper
1 tsp finely chopped fresh rosemary
Instructions
Place the chicken breasts into a suitably sized pan where they can all sit snugly together in a single layer.
Cover with wine and water and add the rosemary sprigs, black peppercorns. Use the back of your knife to smash the peeled garlic cloves and add them to the pan.

Place the pan on the heat. As soon as it starts to boil, reduce the heat to moderate so that the chicken is gently poaching. It is useful to use a temperature probe thermometer here to ensure the chicken cooks through safely: mine took approx. 20-22 minutes to reach safe temperature (with the thickest part of a piece being probed with the meat thermometer), but the amount of time will depend on the size of your chicken breasts. There is little room for error with chicken, so a temperature probe thermometer is a great little inexpensive investment.

Once the chicken breasts have cooked through safely, use tongs to remove them from the liquid and place them on a plate to rest and stay warm. It is best if you cover them with foil.
Strain the poaching liquid into a clean pan, discarding all the peppercorns, garlic, and rosemary remaining in the sieve: they have done their job of flavoring the liquid.

Reduce this strained liquid over high heat until you are left with about ¼ cup of liquid. Remove the pan from the stove and whisk in the cream and the little cubes of butter until the sauce is emulsified.

Return the pan to the heat and reduce over low heat until it starts to thicken and reduce further. Once you are happy with the consistency (it should coat the back of a spoon), season freshly ground black pepper and salt (only if you feel it needs it). Stir through the finely chopped rosemary.
Slice the rested, juicy chicken breasts and serve with the delicious sauce!

Recommended Products
As an Amazon Associate and member of other affiliate programs, I earn from qualifying purchases.
Nutrition Information:
Yield:
4
Serving Size:
1
Amount Per Serving:
Calories:

390
Total Fat:

24g
Saturated Fat:

15g
Cholesterol:

130mg
Sodium:

45mg
Carbohydrates:

1g
Sugar:

1g
Protein:

41g