Healthy White Chocolate Peanut Butter Fudge. Should I really say anything more? Well, this has been a staple for me while pregnant. Got to get in those healthy coconut fats for proper brain development you know! My husband likes it so much that he even asked me to make some for him to bring to work (that's a pretty big deal!). So, I simply could not keep this recipe to myself. I hope you enjoy it too.
Note: we do not eat peanuts or peanut butter often because of the risk of aflatoxin, but the peanut butter used in this recipe is about the best quality that I have found! Plus, it also contains coconut oil!!! If you don't eat peanuts, you can certainly substitute any other nut or seed butter in this recipe
White Chocolate Peanut Butter Fudge
Healthy White Chocolate Peanut Butter Fudge. Should I really say anything more?
Ingredients
1 cup coconut butter
1/2 cup peanut butter
1 cup white chocolate chips
1 tsp vanilla
Chocolate chips for sprinkling
Instructions
1. Melt coconut butter in a warm saucepan of water until you can stir it (it separates and when you buy it, the oil is settled on the top) -- do this right in the jar.
2. Mix the coconut butter until the solids and the oil are well combined.
3. In another saucepan, combine coconut butter, peanut butter, white chocolate chips, and vanilla.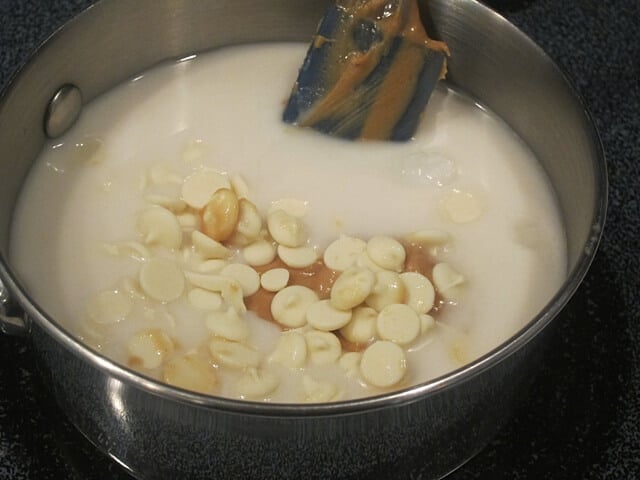 4. Stir over low heat until all melted together.
5. Line a baking dish with parchment paper (I grease it with coconut oil first to get the parchment to stick).
6. Pour mixture into the dish and smooth out evenly with a spatula.
7. Drop chocolate chips on top and either allow them to melt and then swirl them in using a butter knife, or leave them whole and press into the fudge.
8. Place the pan into the fridge until set.
9. Pull up on parchment and remove the fudge.
10. Using a sharp knife, but it into squares.
11. Store in a sealed container in the fridge.
Recommended Products
As an Amazon Associate and member of other affiliate programs, I earn from qualifying purchases.